Writing a resume objective
The Resume Objective is one of the most important topic that your resume should cover. It facilitates to the employer know that you are interested in a specific type of work.
The specific objective for which you are preparing your resume, as well as the order in which these broad components might appear on your resume, should reflect the degree of importance you attribute to them. As you review the information you have gathered thus far, remember your objective, which will decide the information you incorporate into your resume.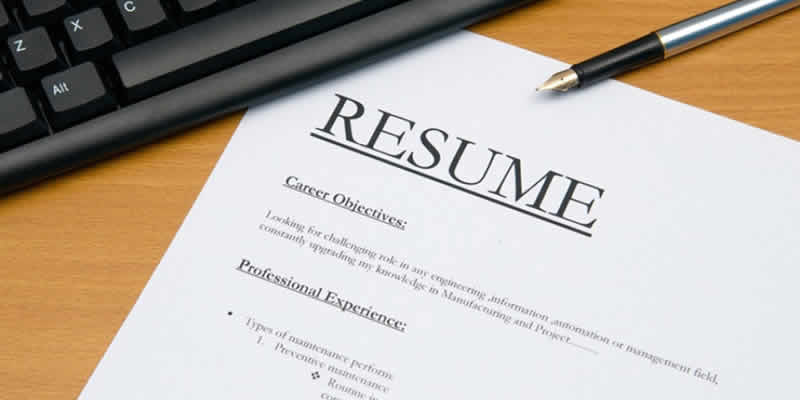 Your resume objective can be as brief as 1 sentence, stating a general goal, can be done in 2 or 3 sentences, or as long as a brief paragraph, communicating both short-term and long-term goals.
Resume Objective Samples by Career Field
Account payable / receivable

An Accounts Receivable/Payable position in a fast-paced environment.
Administrative Assistant

To obtain a position of Administrative Assistant with a company using a positive attitude, great attention to detail and accuracy, and a desire to succeed in a fast-paced environment to make a difference in the office administrative procedures.
Graphic Art and Design

To use my education and skills to secure a position with Leapforce.
Bank Executive

Trilingual and Innovative professional experienced in customer service, supporting managers with high energy oriented to get results, managing of resources, and quality performance.
Client Services

To obtain a position as a valued employee in a growing, reputable cosmetics company where I can contribute my experience, proactive attitude, and positive atmosphere to the customer experience.
Purchasing and Procurement

Currently attending an online course in Financial Engineering and Risk Management of Columbia University (New York) under Martin Haugh and Garud Iyengar.

Planning to achieve Ph.D. in Economics and Management.

Planning to attend courses for German, Italian and French language.

Personal development and progression.
Aide and Assistant

To provide children with the necessary care and education to be successful learners. Dedicated to creating an atmosphere that is stimulating, encouraging, safe, and adaptive to each child's individual needs.
Computer Security

Get a job where I can utilize my skills, while acquiring new knowledge in the company.
Community Service Specialist

Seeking position of Public Affairs Coordinator. Young, politically educated professional with experience in field work, blue collar employment and office organization. Committed to feminist principles and LGBT rights, including reproductive freedom, access to education and health care for all human beings.

Primary Skills: Logistics, team organization, timely research and interpersonal relationships.
Brick and Cement Mason

to find employment with a company that i can grow and be an asset. job security is a top priority.
Call Center

Dedicated Sales Associate with more than ten (10) years in retail and customer service. Possesses a firm commitment to customer service that has been described as "second-to-none" by employers.
Dental Assistance

Highly talented and fun dental assistant with more than 5 years experience taking x-rays, scheduling, and assisting dentist with restorations and oral surgeries; including 5 months as lead dental assistant. Proven ability to work independently or as a member of the team. Demonstrated ability to establish positive and trusting relationships with clients, coworkers and management!
Career Counselor

Pursuing a counseling position at Ball High School.
Chemical Engineer

To leverage my leadership skills and experience in technology licensing, process design, and proposals in a business development position; leading to management opportunities based upon my performance.
Cinematography

My objective is to find a new medium in which I can apply my knowledge and experience at the forefront of something new and growing. I've worked on and off as a camera prep technician at some of the highest end rental houses in the city, as well as with the newest, most advanced technology in the field on a daily basis. I have gained an incredible amount of technical knowledge through working with some of the greatest minds in the film industry, and through regularly being presented with opportunities to use my head to come up with creative ways to solve the most difficult of problems, I have learned that without having challenges to face on a regular basis, I'm not using my mind to it's fullest potential.
Adjuster, Investigator and Collector

To excel personally and professionally in a challenging career; putting my personal strengths to use in a field of interest.
Correctional Officer

Seasoned Professional with over 20 years of security, regulation enforcement and training combined from the US Army and PA Dept of Corrections with a current Secret Security Clearance. Proven ability to be a corporate ambassador assisting and collaborating with multiple levels of management and diverse cultural audiences in high risk environments. Career supported by the completion of multiple layers of civilian and military education courses.
Library Circulation Services

Friendly, detail-oriented and trained patron services assistant seeks position in circulation department of public library.
Account Management

To attain a position with responsibilities that will effectively utilize my communication, leadership and organization skills;

To serve the office and acquire professional growth and personal advancement.
Aircraft

To obtain employment in the aircraft industry.
Brand Management

To work with an organization that will provide an opportunity to build a strong career in the field of Marketing. Prove my ability and skills to create more value for the company and also grow within the organization. To set realistic and achievable targets for myself while effectively achieving the targets of my Job. My long term goal is to build an extensive and experiential skill set in 360 degree of marketing.
Enlisted

My objective is to be selected as the Human Resource Advisor for the 141st Air Refueling Wing. To serve my wing in a greater leadership role and be a mentor to all ranks.
Farming

A strong desire to work in production agriculture. My ambition is to utilize my agricultural knowledge and experiences and work in an area where I can contribute to enhancing agricultural production and the well being of producers.
Home Health Aide

With over 20 + years of experience in the State of Wisconsin I seek a position in a professional facility with innovative processes. I am a energetic and motivational CBRF/ CNA leader that is dedicated to providing top quality care to elderly, mentally and physically challenged individuals.
Performing Artist

To gain experience working and collaborating with music artists in ways that will aid my personal growth and development in musicality and musicianship.
Housekeeping

I am seeking a position where I can develop and excel while giving my best to an employer. I am a friendly. loyal and clearly dedicated individual who has an ambition to succeed in any given environment. Although I have extensive experience in housekeeping, I love to learn, and am always up to a challenge whatever the situation. I get along well with others, while working efficiently on my own.
Pharmacist

Patient care driven and dependable individual with more than 1 year experience in hospital and retail pharmacy environments

Committed to improving the health and wellness of others

Dedicated to continued professional knowledge of patient specific pharmacotherapy interventions
Counseling

Seeking a professional position at Keystone Human Services to dedicate myself to the field as a valuable member of the team while continuing my education to further improve my performance in the mental health field.
Broker and Agent

My objective is to help the buyer & seller feel comfortable, confident and stress free when engaging in one of life's largest investment,,, Selling or buying a home from start to finish.
Customer Service

Obtain a position as a team-player in a people-oriented organization where I can maximize my customer-service experience in a challenging environment to achieve the corporate goals.
Inside Sales

My passions are fitness and all things involving sports and recreation. I hope to help an organization or business/school to excel in physical activity and organizational skills. As a former professional golfer, coach and current trainer, I feel I can help anyone from any walk of life to lead a healthier and fitter lifestyle.
Biotechnology

Enthusiastic, detail-oriented scientist with strong problem-solving and analytical skills. Ability to grasp new concepts quickly and to assimilate data a wide range of scientific areas. Over ten years of experience working on academic research projects that includes developing HIV DNA vaccine with cytokine adjuvants in animal models, optimizing multiplex cellular profiling assays, and characterized immunological responses of infectious diseases.
Automotive and Motor Vehicles

To be employed in a safe and positive environment. To benefit the company and myself with shared respect and responsibility. To grow personally and professionally so that it benefits the team effort in a safe and productive manner each and every day. To treat others fairly and honestly as I would want others to treat me. To complete my career with a profitable company that shares their positive values with its employees.
Social Sciences

Experienced social worker seeking a new challenge with an organization committed to serving the elderly in a caring and compassionate environment.
Athlete and Sport Competitor

As a Professional Basketball player who resides in East New York Brooklyn my objective is to work with kids in the beacon program to help spread knowledge and whatever else is needed for them to be successful. I'm a hardworking young man with short term goals and long term goals and is very confident in due time they will all be accomplished. I am very passionate about sports and is always willing to lend a helping hand.
Customer Service

Customer Support where my experience can be utilized to improve customer satisfaction.
Tailor and Sewer

In applying in your company,one of my objectives is to enhance my talent in sewing and share my knowledge to help your company. Another is to provide the needs of my family as we all know that the salary here in the Philippines between the salary abroad has a large difference.
Bus Driver

I am seeking a driver position with a company which will require me to utilize my skills, abilities and experience in the transportation field to ensure the company's success.
Animal Care and Service

Currently looking for a position in a medical or veterinary office environment.
Veterinary Medicine

To obtain a challenging position within a company that will utilize my previous work experience. Will also offer the potential for professional growth.