Sales Resume
This position requires you to sell products, services or both, so your ability to promote yourself in your resume is vital to getting the job. Express the energy that employers need by using active, powerful language throughout your resume. Show how your work has benefited employers by providing hard numbers.
From a career progression perspective you should look to first be selling the higher value products within your industry. If you're in sales, then you should know how to sell yourself in a resume. The sales-focused resume samples below have been created with the needs of the sales professional in mind.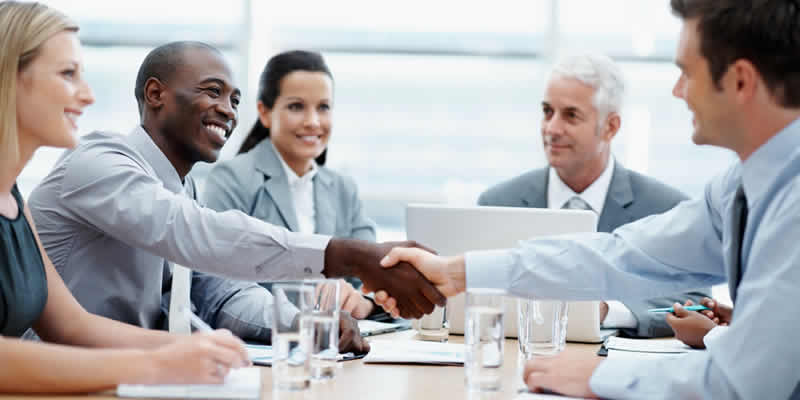 Sales Service career fields
Account Management
Business Development
Customer Service
Inside Sales
Outside Sales
Real Estate
Retail
Sales
Sales Management
Sales Support
Telephone Sales
Sales resume Samples
Sales Resume sections
Objective
To obtain a full-time position that will allow me to leverage my personality and interpersonal strengths, skills in sales, and ability to consistently exceed member's expectations.
Seeking a position at The Campbell County Observer Newspaper.
To substantially increase your company's sales and better provide for my family.
To obtain a sales position in your company.
To be part of a team where my interpersonal, motivational and learning abilities can be utilized to benefit the organization and enhance personal growth.
Highly respected sales and healthcare professional.

Fully trained to conceptualize and execute sales plans and initiatives that effectively present and enhance the brand image and value of products and services offered.

Articulate and personable professional with highly developed interpersonal, analytical and creative skills.
Seeking a Wireless Sales Professional position at Cellular & More where I can utilize my valuable sales skills and be an asset to your company.
To secure a stable position in a company that will utilize my sales skills and abilities.
Dedicated Customer Service Representative motivated to maintain customer satisfaction and contribute to company success.
Begin a new career in sales with Gator Sports, making myself a positive, integral part of a team that allows me to exhibit my entrepreneurial drive, creativeness, and loyalty in order to deliver results. My morals and values, determination, and hard working nature make me a valuable asset who can motivate, inspire, and help the team surpass expectations. Also, this career will further develop my business mindset and provide a means for me to realize my full potential.
To use my sales and marketing oriented skills in the best possible way for achieving the company's sales goals.
My Objective by attaining this job opportunity is to further myself into the automotive industry by becoming a professional Automobile Salesman. I hope to push myself to my absolute physical and mental capability everyday to maximize productiveness for not only myself but for the company. Develop better tendencies to be able to close deals, and assist the customer as much as possible.
To obtain a challenging position in which utilizes my communication skills and interpersonal experience while promoting advancement and cultural diversity.
Experience
Telemarketing supervisor (2006 - 2010)

National benefits , houston, texas usa
Directed sales actions, trained sales staff and evaluated performance and results.
Consulted with clients to know their expectations and worked under budget limitations.
Managed daily operations, dealt with customers and supported and worked with the management to motivate growth.



Cashier (present - present)

Aramark, houston, texas usa
cashier



Telephone sales rep (march 2013 - jun 2013)

Advanced Medical Company, houston, texas usa.
Making outbound calls to others businesses selling medical supplies.



Cook food prep (july 2013 - december 2013)

mr p's subs and sandwiches , houston, texas usa
making sandwiches, preparing food and making bread
Sales Officer (6th May 2014 - Till Date)

HCL Infosystem Ltd, Ratlam, Madhya Pradesh India
Directed sales actions, trained sales staff and evaluated performance and results.
Designed and implemented a complete training program and organization development schemes.
Ordered stock for the retail and ensured distribution in due time.
Maintained and completed leads and sales processes in accordance with the company policy.



Team Leader (1 July 2010 - 30 April 2013)

Spice Mobile, Ujjain, Madhy Pradesh India
Responsible For primary & Secondary Sales of Spice Mobile,Responsible for team handling & Reporting.



Team Leader (1 Feb 2010 - 30 June 2010)

Samsung Mobile, Ratlam, Madhy Pradesh India
Looking After Dealer Network
Responsible For primary & Secondary Sales of Samsung Mobile
Responsible for team handling & Reporting



Team Leader (Jan 2006 - Jan 2010)

Nokia Mobile, Ujjain, Madhy Pradesh India
Directed sales actions, trained sales staff and evaluated performance and results.
Implemented a new sales forecasting application and trained staff.
Financial Representative (06/2013 - 07/2015)

Northwestern Mutual, Wilmington, NC USA
Developed and managed different plans, dealt with budgets and supervised projects from the beginning until the end.
Consulted with clients to know their expectations and worked within budget limitations.
Assisted clients to fit products, informed about products characteristics, compared different recommendations, and recommended one product or several according to client's needs.



Realtor (08/2012 - 06/2013)

Coldwell Banker Sea Coast Advantage, Wilmington, NC USA
Consulted with constructors and landlords to make sure all agreed terms were included and programmed for build out.
Provided customers with information such as market conditions, mortgages, prices, legal issues and related matters.



Realtor (11/2011 - 08/2012)

RE/MAX Essential, Wilmington, NC USA
Consulted with clients to find out the type of properties they were interested in.
Showed homes to possible buyers, presented purchase offers to sellers for consideration
Administrative Assistant (2005 - 2006)

Big City Insulation, Gillette, Wyoming United States
Informed clients about existing financing options and prepared documents required for each sale.
Answered customer queries in person, by telephone and via e-mail messages.
Created and maintained new filing systems.
Used MS Access database software to keep records of clients, invoices, payments and cancellations.



Sales Representative (2005 - 2005)

Bennett Advertising, Gillette, Wyoming United States
Informed clients about existing financing options and prepared documents required for each sale.
Contacted company leads by phone inform about product benefits and offers to get sales.
Sold products by phone offering customers the best price, discounts and benefits.
Arranged contract terms, prices and revisions.



ABH3 (AW) (2001 - 2004)

U.S. Navy, San Diego, CA United States
Dealt with air traffic control center operations to guarantee secure flights.
Tracked and maintained office assets, managed expense reports, and ordered supplies.
Consulted with purchasing department to maintain supply chain distribution.
Designed and implemented a complete training program.
Skills
Computer Literate, Word, Excel, Outlook, Social Media, 3 years
Public Speaking, Technical Skills, 2 years
Critical Thinking, Used daily to formulate solutions for customers, 3 Years
Customer Service, I have always believed showing the customer you care is essential for good sales/customer relationships, 3 Years
Multi-Tasking, I constantly deal with multiple accounts at the same time, 3 Years
Skills, AS400; MS Word, Excel, and Powerpoint, 2 years
Sales Agent, Selling Accessories for Smartphones, 2 years
Sales Associate, Organization, 16 years
Multi-Lingual, Farsi, Pashtu, English, 46 years
Interpersonal communication, Writes clearly and concisely; listens attentively; openly expresses ideas, negotiates/resolves differences; provides and asks for feedback; offers well-thought-out solutions; cooperates and works well with others., 5 years
Organization, Thinks critically to solve problems; handles details; coordinates and completes tasks; meets deadlines; multitasks., 5 years
Flooring Specialist, Sales Specialist, 25 years
Customer service, experienced, 7 years
Culinary arts food prep, experienced, 12 years
Great Customer Service, Cash handling, Computer skills, Stocking,, Team Player,, Janitorial skills years
Sales & Marketing, 8 Years Experience, 8 Years
Sales, Talking with customers on the phone, Four years
Social skills, Good at listening to customers , One years
Communication, Understanding customers , One years
Office, Customer Service , One years
love to compete and cannot stand to lose at anything, especially my competition. I also feel that I have the personality to relate and establish great customer relationships that we all know , really can help in a competitive environment , 25plus years involved in everyday competing sales , 25 plus years
Customer Service, Customer Relations, 9 years
Sales, Closing Expert, 18 years
Excellent communication skills, Expert, 20 years
Team Management, Expert, 18 years
Lead Generation, Expert, 15 years
Customer Relations, Expert, 20 years
Price Negotiation, Expert, 18 years
Education
Campbell County High School, 2001

Gillette, Wyoming, United States
High School, Diploma
Graduated



The New York Art Institute of Photography, enrolled

New York, New York, United States
Photography, License
Currently taking courses through the mail.
Onondaga Community College , Currently Attending

Syracuse , New York, United States
Business Administration , Business Administration
Currently sustaining a GPA of 3.2
Kearny High School, 2012


Construction Tech Academy, Graduate

Mesa College , 2015
San Diego, Ca,
Undecided,
Access , 1999

Brooklyn, New York, United States
Computer Science, GED
Computer Programing
Cross Creek High School, 2007

Augusta, Georgia, United States
Dual Seal, Tech/College prep
Graduated in 2007 with Dual Seals for both college and tech prep. Participated in Drama, Soccer and Cross Country.
Pearland High School, 2011

Pearland, Texas, United States
General Studies, Diploma of Graduation
Graduated from Pearland High School in 2011, with an A-average
St. John , August 2004-May 2005

Jamaica, New York, United States
Communication Arts, N/A
Donetsk National University, 06/2008

Donetsk, Donetsk, Ukraine
Marketing & International Economics, Bachelors
Fluent in Russian
Accomplishments
Developed and maintained excellent customer relationships and offered exceptional customer service increasing customer's' satisfaction and customer loyalty.
Increased accessories sales by 12% displaying helpful attitude and styling advice to customers.
Inside Sales
Outside Sales
Auto Sales
Marketing
Security Patrol
Music
Graphic Design
Video Editing
Chemical Mixing
Ag Plane Mixing and Loading
Consistently ranked in top 5% of sales for Route Sales Representatives at Schwan's.
Attended various seminars including Landmark Education forum both intermediate and advanced. Also, attended seminars for Michelin and Bridgestone tires.
Played for a strong basketball and football teams at the university, winning the league Championship.
Awards and Certifications
Presidents Club (x2) - Most revenue in store as a sales consultant
Bronze Certification
Silver Certificate
2009-2010 StandWithUs Emerson Fellow
Top Grossing Sales Associate of the Year, Bellani Maternity 2009
Perkin Elmer Fluid Sciences Scholarship Award for Women in Science 2007
Top of Class - Resource Training in Chicago, IL for Financing Manager Position at Lujack Auto Plaza
Bloomingdale's General Manager's Club Award winner for exceeding sales of over 500K in 2007, 2008, and 2009
Apple Certified Sales Professional
Best Buy for Business Trainer
FINRA Securities 6 & 63 Licenses
NC Producer License (Variable Life/Annuity, Accident & Health/Sickness, Life)
NC Medicare Supplement Long-Term Care License