Nursing Resume
As important figures in many settings, nurses work directly with acutely and chronically ill patients, offering support and helping to administer treatment. Nurses also record patient status to ensure adherence to medical protocol. Emergency rooms, intensive care units, nursing homes and retirement centers are just a few places where nurses are employed.
Nurses base their employment in helping make a patient's worst day the best it can possibly be. They must be very prepared and demonstrate their knowledge to hiring managers. The resume serves as the first impression you make on an employer. Get inspiration from our resume section samples for a nursing career below.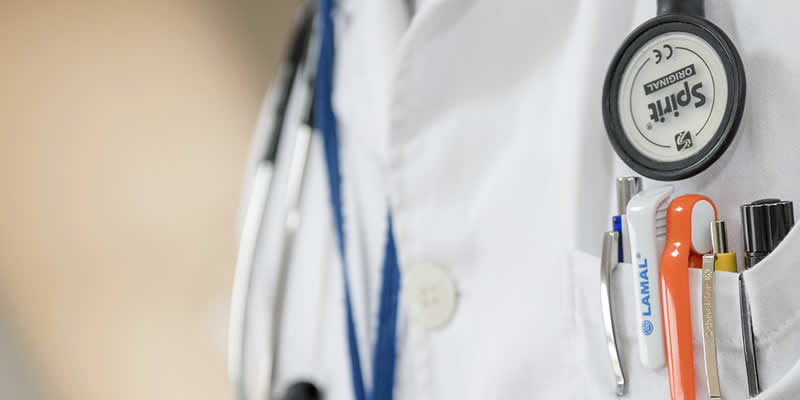 Nursing Service career fields
Case Manager
Home Health Aide
Licensed Practical and Vocational Nurse
Nursing Aide and Attendant
Nurse Practitioner
Physician and Medical Assistant
Psychiatric Nurse
Registered Nurse
Supervisor and Unit Manager
Nursing resume Samples
Check professional, be error-free and well organized nursing resume samples here:
Nursing Resume sections
Resume Objective Samples
Obtain a position at St. Luke's Health System where I can maximize my skills in nursing and education to secure a high quality care to patients served.
To become a registered nurse in a hospital or a private office setting.
To obtain a Staff Nurse position in the Emergency Department with Northeast Georgia Medical Center on a PRN or part time level.
Continue in the Neonatal Intensive Care Unit to provide care for acutely ill infants or supportive care for convalescent or mildly ill newborns.
To obtain my Master of Professional Studies with a concentration in Strategic Leadership to enable me to lead in today's rapidly changing healthcare environment by focusing on leadership, communication, strategic planning and assessment, organizational structure and research/data analysis.
Registered Nurse with BSN, possessing inpatient and outpatient clinical experience along with multiple language skills including Russian and Ukrainian.
Present myself as a hard worker, devoting all my skills and efforts. Develop my experiences in my studying & nursing field.
To obtain a job as a bedside nurse in a designated Pediatric Cardiac Intensive Care Unit.
Highly enthusiastic nurse with positive work ethics. Looking for a nurse position using exceptional skills in assessing and screening, and carrying out prescribed treatment of patients to support the long-term mission of the facility.
To begin a steady career as a Maternity Nurse. To use my past expertise to better the hospital and myself.
Experience
Registered Nurse (dec 02-2010 - till date)

Antelope valley hospital, lancaster, ca usa
Kept up to date case histories of patients.
Collaborated with physician to plan complete patient treatment.
Licensed Practical Nurse (July 2015 - Current)

Phoenix Healthcare , Kansas City, MO
Provided in-home health care for pediatric patients. Monitored ventilator. Tracheostomy care. G/J tube. Central Line with TPN. Gave medications and treatments. Called physician for issues and questions.
Registered Nurse (07-05-2011 - 2016)

Grandview Medical Center, Birmingham, AL USA
Kept up to date case histories of patients.
Took blood and urine samples for analysis.
Analyzed patients' mental abilities and examined medical reports to establish treatment and achievable rehabilitation objectives.
Advised and informed patients about drug interactions, secondary effects and doses.
Monitored and reported achieved and non achieved treatment goals to physician.
Required, and evaluated diagnostic tests to detect health problems and to perform treatment.
Collaborated with physician to plan complete patient treatment.
Realized physical examinations as prescribed by physician.
Monitored and reported achieved and non achieved treatment goals to physician.
Telemetry Nurse (RN) (August 2015 - Current)

Olathe Medical Center, Olathe , Kansas
Monitor telemetry on all patients.
Provide post-op care for cardiovascular and electrophysiology procedures.
Perform EKGs.
Monitor cardiovascular condition and take appropriate measures in an emergency situation.
Patient education regarding cardiovascular diseases.
Advised and informed patients about drug interactions, secondary effects and doses.
Collaborated with physician to plan complete patient treatment.
Registered Nurse (2005 - 2011)

Jackson Memorial Hospital, miami, Florida United States
Correctional Health Systems Registered Nurse providing triage, assessment, treatment and medical care to inmates.



Registered Nurse (2003 - 2005)

Landmark Learning Center, Pembroke Pines, Fl United States
Analyzed patients' mental abilities and examined medical reports to establish treatment and achievable rehabilitation objectives.
Monitored and reported achieved and non achieved psychological treatment goals to physician.
Collaborated with physician to plan complete patient treatment.



Registered Nurse (2000 - 2003)

Swedish Medical Center, Seattle, Washington United States
Obstetrics antepartum, labor and delivery, and postpartum medical care.



Registered Nurse (1998 - 2000)

Memorial West Hospital, Pembroke Pines, Florida United States
Triage antepartum, labor and delivery, and obstetric complications.



Registered Nurse (1994 - 1998)

Mount Sanai, miami, Florida United States
Infectious disease medical care, including tuberculosis, Auto Immune Deficiency Syndrome.
Me/Surg, antepartum, and labor and delivery
Staff Nurse (11/2005 - 3/2006)

St. Dominic Hospital, Jackson, MS USA
Provided direct patient care on Cardiac unit, developed and implemented nursing care plans, total patient assessment, provided patient and family education, telemetry monitoring, pre and post cardiac catheterization care, pre and post cardiac surgery care, coagulation therapy including Heparin drips, IV therapy, oxygen therapy, medication administration (oral, subcutaneous, intramuscular, sublingual, transdermal, intravenous), foley catheter(insertion, removal and care) diabetes management, implement admission and discharge procedures.



Staff Nurse (6/2006 - 11/2013)

St. Dominic Hospital, Jackson, MS USA
Provided direct patient care on Women's Health Unit, including antepartum, postpartum, post-op, medical/surgical overflow. developed and implemented nursing care plans, total patient assessment, provided patient and family education, pre and post surgical care (hysterectomy(robotic assisted, open, vaginal, laparoscopic), cesarean sections, vaginal births, gallbladder removal, appendix, mastectomy, hemorrhoidectomy, thyroidectomy) oxygen therapy, nasogastric tube care(insertion and removal), removal and care of Jackson-Pratt drains, tracheostomy care and suction, chest tube monitoring and care, TPN therapy, Diabetes management, antepartum and postpartum patients, staple and suture removal.



Clinic Nurse (6/2011 - Present)

Women's Health Associates, Flowood, MS USA
Working directly in clinic with multiple Physicians providing patient care for gynecologic, obstetric and urology-gynecologic patients. Assist MD with procedures including, Urodynamics, Cystoscopy, and Bladder installations, Review labs,Triage patient calls, use of Greenway computer system, insert orders, Schedule surgery,
Nursing resume Skills
I worked full time at Dubois County Health Dept. over a year, doing Home Health visits as well as public health visits. I also worked at the annual influenza clinics the health dept. ran. We also assisted in doing blood pressures in the community at scheduled intervals thru the health dept., over 1 year years
I organized Red Cross blood drives in my community in the past for approx. 3 years. I also assisted at them, when volunteer nurses were allowed to help., RN, 3 years
Health and Wellness Expertise, trained, 2 years
Skilled in conducting physical examinations, trained, 3 years
Pediatric exams competency, trained, 3 years
Medication administration expert, trained, 2 years
Neonatal and maternity specialist, certificate, 1 years
Bedside RN for pediatric telemetry. Charge RN. Cardiac Cath lab recovery RN., Telemetry, 7 years years
Patient Education, Assessment, plan, teach and evaluate understanding of patients and family, 12 years years
Wound Care Certified, Wound Care, 3 years years
Critical Care, experienced, 29 years years
Assessments, medication administration, treatments, lab draws, IV and PICC line care, wound care, wound vac, tube feedings, suprapubic catheter changes, communication with staff, MD, geriatrics, 12 years long term care experience years
Proficient in bedside monitoring and administering care to critical patients, Critical Care, 5 years in Critical Care, 15 overall years
Registered Nurse, Pulmonary, ER, 7.5 yrs Pulmonary, 23 years ER years
Telemetry Monitoring, Abnormal heart rhythm assessment, 1 year years
IV Medication Administration, Monitoring heart rhythms before and after high alert IV medication administration, 1 year
Blood Administration, Monitoring physiological reaction to blood administration, 1 year
Resume Education Samples
Old Dominion University, 1996

Norfolk, Virginia, US
Nursing, Bachelors
Bachelors of Science Degree



Portsmouth School of Practical Nursing, 1989

Portsmouth, Virginia, Certificate
Licensed Practical Nurse, Certificate
Certificate
College of Sequioas , 2012

Visalia, CA, United States
Nursing, Associates
I received an Associates degree in Nursing from College of Sequoias.



CSU, Fresno , 1995

Fresno, CA, United States
Business Administration, Finance, Bachelors.
I received a Bachelor of Science degree in Business Administration, Finance from CSU, Fresno.
Waynesburg University , 2005

Waynesburg, Pennsylvania
Nursing, Bachelor of Science in Nursing
Clinical experience acquired



West Virginia University Hospitals - Morgantown, WV

Monongalia General Hospital - Morgantown, WV
St. Clair Hospital - Pittsburgh, PA



Washington & Jefferson College , 1998

Washington, Pennsylvania
Biology / Pre-health studies, Bachelor of Arts Degree in Biology
Minor in Sociology.
Reading Hospital School of Health Sciences , 2012

West Reading, Pennsylvania,
Nursing, Diploma
Registered Nurse Diploma Program



Northampton Community College , n/a

Bethlehem, Pennsylvania,
Culinary Arts/General Studies, Culinary Arts
Culinary Arts Diploma Program and General Studies



Liberty High School , 2004

Bethlehem, Pennsylvania
College Prep, High School Diploma
High School Diploma
Normandale College , 2005

Bloomington, MN, USA
Nursing, AS
Graduated with Honors
Purdue University , 2006

West Lafayette, Indiana
Bachelor of Science in Nursing with Distinction.
Top 20% of Graduating Class.
GPA 3.79
Samples of Nursing Resume Accomplishments
Recommended and chosen by manager to be part of a multi million project in implementing and testing a new online documentation method for nurses, physicians and allied staff.
Implemented, assisted with data accumulation, testing, training and startup of a million dollar project that delivers clinical documentation tools that enhances workflow.
Directed and provided leadership to a team of 30 Registered nurses in the implementation of a joint commission project, " DO NOT ABBREVIATE". initiated to promote safety and avoid the use of abbreviations from the do not use list. Trained nurses and physicians hospital wide. Incidence of medication errors were greatly reduced to 95%,exceeding the goal of 90%.
Oversaw and managed a team of 10 registered nurses in a live research project - NORWALK VIRUS study. A program funded by GRCC and NIH, under the direct supervision of Professor Mary Estes from Baylor College of Medicine.
Taught and participated in the yearly skills check off.
Presented and taught hospital wide inservices
Earned the Award for Academic Excellence for highest nursing GPA.
Recipient of the International Education Travel Scholarship: Nursing Study Abroad, Belize, Spring 2014.
Arrange and provide incoming training for nursing personnel 22 times a year.
Direct multiple in-services to nursing personnel on an as needed basis.
Lead a multidisciplinary team in the assessment, training and delivery of 940 suction regulators to designated nursing units in 3 phases in 2012 and 2013.
Converted a Learning Needs Assessment form from a paper to electronic version with a 50% increase in response from prior years in 2012. Responsible for the distribution of the form, compilation of the responses and delivery of compiled information to responsible parties on a yearly basis.
Developed and implemented an extended orientation for new Health Unit Coordinators based on the National Association of Health Unit Coordinator guidelines in 2011. This orientation continues currently.
Assisted in the trial, selection, training and deployment of house wide new glucose meters in 2012.
IV start and maintenance.
IV medication administration.
Foley insertion.
Flow sheet charting.
Experienced care of mother and newborn.
Experienced computer charting.
Resume Awards
Received Science award
First in Science fair
High honor roll
Perfect attendance first quarter
Nurse of Excellence, Lakeside Memorial Hospital, 2007
Employee of the month, Lakeside Memorial Hospital, April 2007
B.J. Mancuso Memorial Award, Genesee Region BOCES, 1987
Nursing resume Licenses
Registered nurse issued by Texas Board of Nursing and expires 12/31/2017
License # 754734
Alabama, North Dakota, and Florida Nursing licenses.
Missouri State Board of Nursing RN License.
Kansas State Board of Nursing RN License.
Registered Nurse
License # 385305 (Ohio)
Registered Nurse/NC 1992 - present #122468
AHA Certification in CPR for Healthcare Providers
NC Real Estate License 1995 - present # 166554
FL Real Estate License 2002 - present # 3071384
Licensed as a registered nurse in South Dakota, license obtained July 1998.
Samples of Nursing resume Certifications
CPR certified by American Heart Association.
ONS Chemotherapy/Biotherapy Certified.
Certificated Nurse Practitioner.
Basic Life Support.
Advanced Cardiac Life Support.
Advanced Stroke Life Support.
Renal Certification 1995: current CPR certification.