Hospitality Resume
Get your hospitality resume sample for the specific position for which you are applying. While interpersonal skills are key to communicate, specialized abilities in housekeeping or restaurant management vary in value based on the job involved. Be sure to list testimonials from customers who were satisfied by your performance in the past.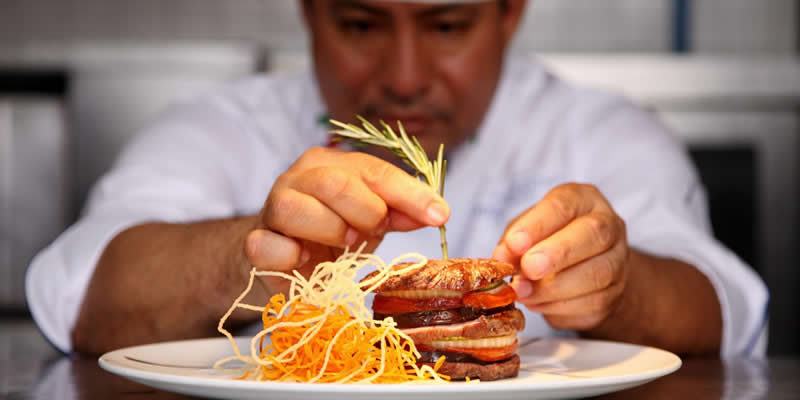 Hospitality career fields
Banquet Manager
Bartender
Bar Staff
Bellperson
Busser
Catering Manager
Catering Sales Manager
Chef
Concierge Agent
Cook
Corporate Sales Manager
Crew Member
Director of Hotel Sales
Director of Hotel Operations
Food Server
Front Desk Clerk
Front Desk Agent
Hospitality resume Samples
Hospitality Resume sections
Objective
Motivated food server seeks restaurant position with potential for advancement. Excellent customer relation and team building skills. Natural leader with ability to motivate others provide superb service.
Seeking a position as a restaurant server where strong skills and expertise in the food serving industry can be employed to provide excellent guest service.
Looking for a Food server or Bartender position. Have over 6+ years of server experience. Familiar with most POS systems (Macros, Squirrel). Currently a Student at FAU Study Mole.Biology. Motivated to work. Available at all hours and shifts except Monday and Wednesday Mornings earlier then 10Am(school). Will work Full time or part-time.
To Obtain A Waitress/Customer Service Position With T.G.I. Fridays.
To obtain full-time employment in in the restaurant or customer service industries with the opportunity to further my experience and advance in my field.
I am seeking full time employment with an establishment that promotes growth, teamwork, and a positive work environment.
My Objective is to use all of the opportunities offered to me by the UNCW Honors College to help better myself and my future career as a Speech Language Pathologist.
Looking to join a company who is in need of a server with excellent customer service skills, a team player and can work in a fast paced environment.
To obtain a position at a well established restaurant or hotel that will enable me to utilize my current skills and experience to the best of my ability. Promotion and job security will be the two main objectives i'll have in sight when i find the right position at the right establishment.
To obtain long term employment with growth potential in a company which allows me to contribute my skills, experience, positive attitude, initiative, and knowledge of time management, to achieve my highest potential.
Highly motivated to work for Keg & Kitchen as a Waitress, employing passion and experience in a fast paced environment to serve the restaurant's customers efficiently and effectively.
Experience
Barista / Shift Lead (08/01/2014 - 03/10/2016)

Carpe Diem Gelato & Expresso Bar, Lafayette, Louisiana United States
Handled front-end and back-end duties including;
Customer service
Preparation of food and beverages
Maintenance and shop upkeep
Development of new sales initiatives in a team-based environment



Stocking Clerk (02/01/2014 - 07/30/2014)

Winn-Dixie, Lafayette, Louisiana United States
Stocking and clerical duties including;
Receiving of merchandise from delivery trucks
Sorting and staging inventory
Shelf stocking and loss prevention



Flooring Apprentice (05/01/2013 - 11/01/2013)

Dave Marble (Independent Contractor), Lafayette (and surrounding areas), Louisiana United States
Apprenticeship in flooring;
Client interaction and consultations, including on-site surface measurement and estimation
Material pickup and transportation
Installation services and clean-up
Server (May 2015 - August 2015)

Sanitary Restaurant and Fish Market, Morehead City, NC
Took drink and food orders from customers.
Informed and explained the menu to customers.
Informed and served wine to customers.
Realized special cuts of meat following customers requirements.
Talked with customers to help with doubts and to make sure of client's satisfaction with the food and with the service.
Kept contact with cookers, serving staff and patrons to meet client requirements.



Kitchen Staff (April 2015 - May 2015)

Sammy's Seafood & Oyster Bar, Morehead City, NC
Left due to Serving opportunity at Sanitary Restaurant.
Prepared different pies, tops, meringues and creams.
Cleaned freezers and heating equipment.
Cleaned the working area and equipment.
Designed food presentation.
Organized the food, meat, products, vegetables, fruits to show them attractive to customers.
Inspected equipment and work areas to guarantee they fulfill the established sanitary and safety regulations
Kept contact with cookers, serving staff and patrons to meet client requirements.



Dock Hand Server (May 2014 - August 2014)

Boathouse at Front St Village, Beaufort, NC
Took orders from clients for boating needs.
Dealt with client problems and complaints keeping cordial and helpful.
Cleaned and ensure safety of boating environment.
Waitress (June 1, 2015 - Current Date)

Main Street Grill, Edwards, Colorado United States
I currently waitress but i also run food, host and bus tables.



Hostess and Busser (June 2014 - June 2015)

Gore Range Brewery, Edwards, Colorado United States
I would host, bus and run food for the restaurant.
Server (Oct 11th - Feb 28th)

Senior Star, Toledo, Ohio United States
Cleaned freezers and heating equipment.
Cleaned the working area and equipment.
Prepared and served all kind of hot and cold drinks.
Took drink and food orders from customers.
Informed and explained the menu to customers
Server (01/2014 - 02/2015)

Player's Sports Bar and Grill , Dickinson, ND USA
Took drink and food orders from customers.
Informed and explained the menu to customers
Kept contact with cookers, serving staff and patrons to meet client requirements.



Server (03/2015 - present)

Hotel Crittenden , coudersport , PA USA
provided excellent customer service.
Hostess (June 2014 - August 2015)

BRGR Kitchen and Bar, Prairie Village, KS USA
Greeted and sat customers, took to-go orders, took names and waiting times



Server (May 2015 - August 2015)

Arris's , Lenexa, KS USA
Learned how to serve, use the computer system, and all the other responsibilities that come with serving.
Front of House (April 2015 - Present)

O'Bryan's Bar & Grill, Owensboro, Kentucky United States
Cross-Trained for BOH & FOH



Production Control Team Leader (June 2014 - Present)

Hines Precision, Inc., Philpot, Kentucky United States
Data Entry
Internal Auditing
Trainer
Supervisor Assistant



Temp at Hines Precision, Inc. (April 2013 - June 2014)

Peoplemark, Owensboro, Kentucky United States
Production Control Sorter
Server (2015 - Present)

Outback Steakhouse, North Myrtle Beach, SC
Informed and explained the menu to customers
Took drink and food orders from customers.
Realized special cuts of meat following customers requirements.
Kept contact with cookers, serving staff and patrons to meet client requirements.
Cleaned the working area and equipment.



Warehouse Manager/Lead Sales (12/2010 - 04/2015)

Chandlers' Wholesale Distribution, Sharon, TN
Operated forklift truck to pile and retrieve diverse materials and supplies following the company regulations.
Supervised and coordinated daily shipping and receiving tasks such as packaging, shipping and document generation.
Assisted in warehouse inventory and organization.
Assisted customers and answered all their questions about our products.
Informed and demonstrated products to retails stores.
Skills
Great customer service and people skills, Know how to put a smile on anyone's face., 10 years
Prepared all food items in a hygienic and timely manner, Upheld the stocking of the items throughout the shift, Prepared items for broiling, grilling, frying, sautéing, or other cooking methods by portioning, battering, breading, seasoning and or marinating. Worked all areas of kitchen: grill, sauté, fry, prep and salads, Line cook, 2 years years
Responsible for serving guests in a timely fashion, Maintained condiment bar tidy and fully stocked, Bussed tables and ensured overall cleanliness and sanitation of the dining room, Ensured customer satisfaction by remaining accessible and friendly. served cocktails (holds a current health card), Checked back after delivery of drink to make sure maximum guest satisfaction, Maintained table appearance by pre-bussing, checked drink levels and provided sufficient napkins, Kept station clean, set up and took down station tables properly., Server/Cocktail waitress , 1 year years
Skills involved with my position would be the following: Guest services,money handling, bartending, food order, and POS system., Guest service, 10 years years
Demonstrated the ability to greet customers, present menus, make recommendations and answer questions regarding food and beverage., 6, 10 years
Hands-on experience in the restaurant industry, 8, 10 years
Bilingual: Fluent in both Spanish and English, 25, 25 years
Customer Service, Client Interaction, 8 years
Cash Register Operations, Safe Money Handling, 3 years
Zipline Guide, Course Understanding, 1 1/2 years
Time Management, Customer Service , Problem Solving Skills years
Active Listening, ServSafe Certified , 2 years
Server with great customer service, Restaurant, 4 years
Menu knowledge: Memorize details of daily specials, seasonal menu items and options, as well as rotating craft beer options., Restaurant, 4 years
Food service at upscale, american fare restaurant. Duties include familiarizing guests with menu and daily specials, accurately recording food and drink orders, running multi-course meals, and tallying bills., Restaurant, 4 years
Up-selling: Direct customers to meal add-ons and specialty drinks of perceived value to increase sales, Restaurant, 4 years
Table / wine service, sales, 5+ years
Great at serving food, and drinks. Fun personality, Hospitality
Food handling knowledge, food handlers card, 3 years
Money handling skills, serving, 3 years
Serving and hosting knowledge, serving, 3 years
Education
Green River Community College, Current

Auburn, Washington, United States
AA, AA
Still attending school to complete my AA degree.
Aloha high school, 3.7

Aloha , OR , USA
Communication skills , High School Diploma
High School Diploma
Robert C. Byrd High School, 2012

Clarksburg, WV,
General, High School Diploma
High School Diploma



Fairmont State University, 2016

Fairmont , WV,
Political Science, In progress
Working on a degree in Political Science in hopes of going to Law School in the future.
Home School, 2006

Hagerstown, Maryland, United States
General Studies, G.E.D
Home school from 2002 to 2006.
Riverton High School, GED

Riverton, WY, United States
General, GED
Attended Riverton High School for three years before moving to Sheridan WY and obtaining my GED
Olive Branch High School, 2001

Olive Branch, Mississippi, United States
General, High School Diploma
High School Diploma



Mississippi State University, 2001-2003

Starkville, Mississippi, United States
Communications, N/A
Left school to move to San Francisco and attend an Art School.



Academy of Art, 2006

San Francisco, California, United States
TV/Film, TV/Film
TV/Film education
Screenwriting
Acting
Satsuma High School, 2008

Satsuma, AL (Alabama)
High School Diploma



Spring Hill College, N/A

Mobile, AL (Alabama)
Graphic Design, Bachelors
Not yet completed
Unitek College, College

Fremont, California, United States
Pharmacology , Pharmacy Tech
Handled pharmaceuticals.
Learned the process of filling prescriptions.
Compounded drugs.
Maintains records by recording and filing physicians' orders and prescriptions.
Contributes to team effort by accomplishing related results as needed.
Rockford Lutheran High School, 2007

Rockford, IL
General , High School Diploma.
Received High School Diploma.
Graduated with honors.
Member of National Honors Society and Model United Nations.
Accomplishments
Developed and maintained excellent customer relationships and offered exceptional customer service increasing customer's' satisfaction and customer loyalty.
Supervised, trained and supported staff, to maintain high quality standards and to ensure timelines.
Created partner relationships on a daily basis.
Taken many Wine and spirits courses. Have extensive beer knowledge. Good palette for food and what goes well with individual courses. Regular employee of the month.
Modified Wine, and Cocktail menus.
Recognized by peers and management for going above and beyond with teamwork and customer service.
Severed the most margaritas more than once.
Served food and drinks to a table of 20.
Helped children with signs of emotional or developmental problems by teaching their parents to avoid particular behavior patrons.
Co-managing apartment building- documenting rent, tenant comments, bills, etc. Organization skills.
Organized and compiled a list of service procedures and protocols for the opening of new Memory Support unit, which included checklists for inventory, tools for food service, and guidelines for all servers to be staffed on the unit.
Active member of Beta Club
No Place for Hate Club
Fellowship of Christian Athletes
YoungLife
InsideOut at Buckhead Church
Cross Country at Riverwood International
Riverwood International Charter School Honor Roll 2014-2016
Improved customer satisfaction level, offering them a free tapa during their waiting until the food was served in the table. Customers' tips grew more than 100% what permitted us to maintain this fantastic welcome gift.
Improved cooks performance creating a positive environment in the kitchen, to lessen the high level of stress during serving hours.